News!
Happy New Year! Have a safe and happy 2015!
Beware Counterfeit O'Mal Puppies
It's come to our attention someone has been selling puppies with "O'Mally" pedigrees....A person who is putting themselves out there as "Jim Bailey", sold a puppy to a girl, who sold it to someone who contacted me wanting to know what I could tell her about one of our dogs. First, not even possible because I know where they all are and talk to everyone pretty regularly. Second, we haven't had a litter since the 2nd Alien litter who are 2 years old now! Turns out someone is selling dogs saying they are O'Malley dogs....reds with blue eyes yet! (we've never even had a red, and of course blue eyes aren't malamutes). It gets better....so she was given this "O'Mally" pedigree....with all kinds of strange "kennel" names on it that are probably another breed. She's going to try and get me a copy. She thought it looked fishy when she bought the puppy (14 wks) from a girl that bought it from some guy. Anyone know a Jim Bailey? Our attorney wants to talk to him. He said she could register it with "Malewski" whatever that's supposed to be! Needless to say, someone got scammed for $800 for a mixed breed that probably isn't even a mal. Ah, well, imitation is the sincerest form of flattery they say!

Peeky/Shila has a new home. While we ultimately planned to keep her, she was never truly happy "in the Borg" (a reference to Star Trek's Borg - where they all thought with one consiciousness - like ours do). She really really wanted to be an only dog with more attention than we could give. Well, we were recently given the sad news that Riggs' sister Moya passed away at 12 years. RIP Moya - you were one loved girl and will be missed! But the story doesn't end there. Krystn & Russ turned out to be the PERFECT home for Peeky (who will soon be called Sefera once she figures out that's her new name). Lots of time to spend with her, someone home all day, and several walks a day - she is in heaven. A win-win for everyone! She gets her only-dog home, the hole in their heart is mending fast, and we feel great because it's all we could have wanted for her. Here's her story here.
Also, the O'Mal store is now open for business....everything Malamute, lots of books, clothing, and all kinds of items for the malamute lover on your Christmas list. Your purchase helps support this website. We've also revamped the Children's Book page where you can find all kinds of age appropriate books about dogs for children.
New page updates - the girls, Netiri, LeeLoo & Kara have been added to the "who would they be if they were human" page. Get to know the real minions (as we call them)!
We are now in Northern Michigan's Upper Peninsula - right smack in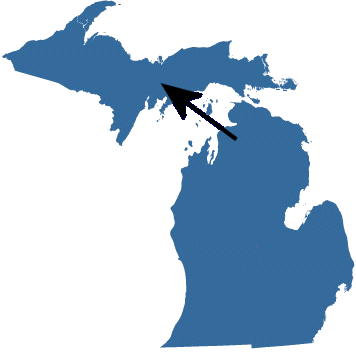 the middle...not far from Pictured Rocks, Marquette, Escanaba, federal & state forests, and 20+ beautiful waterfalls.... Ultimately, it will give us a chance to work our dogs, learn to sled, skijour, cart, or take long walks with the dogs in the woods and enjoy the abundant snow, all with more space. We bought a foreclosure on a beautiful wooded 40 acre parcel and are renovating and builting our dream Mal-nation Plantation! It'll take some time, and while we're not even close to done yet, we're working on it. If you're interested in our renovations and the area (there's a LOT to do) check out Yoopertraz.com.
The Alaskan Malamute ....
No breed is as loyal, intelligent or beautiful than the strong, " Alaskan Malamute ". Bred to survive, and used for pulling in the cold arctic, Malamutes have adapted to being housedog companions to adults and families having children in modern times. An Alaskan Malamute will become your best buddy, and while they care for their family, they are rarely protective except of children. Friendly, charming and playful - Malamutes love people. Quiet house Malamutes, Malamutes do need regular exercise and a job such as pulling sleds, walks, biking, skijoring, weight pulling, carting, running, sledding and keeping busy. Malamute double thick fur ranges in color from red, gray, silver, black to all white. Open face, mask and cap are typical markings that distinguish the breed. Our Alaskan Malamutes tend to be sables and gray & whites with mostly open faces (sometimes there is a bit of eyeshadow under the eyes like a football player or mascara that ran).
In winter, though they love being outdoors, Malamutes prefer being indoors to be near the family pack. Alaskan Malamutes are part of the working group, and are often confused with the "alaskan husky", "Siberian Husky", Samoyed, "Greenland Eskimo" dog, "wolf dogs" and wolf-hybrids. Purebred Alaskan Malamutes registered by the AKC, CKC and UKC come in Maloot, Kotzebue and Hinman strains, named after regions in Alaska where first discovered. Currently there are several lines of Malamutes; ours include Storm Kloud, Hill Frost, Sno Ridge and Glacier predominantly. We recently outcrossed and brought in Ice Cream lines, which include a tiny amount of Sno Klassic and Nanuke to our lines.
Alaskan Malamutes are large, but not a giant breed, because smaller was a better use of resources. Alaskan Malamutes became sturdy, strong and durable - able to survive arctic winters. A giant Alaskan Malamute or what is often called a Mackenzie River Husky has less stamina to survive and would require larger quantities of food than an ordinary Inuit family could provide. There are also wooly malamutes - where the coat is longer and thicker. The AKC standards says the correct size is from 60 to 75 pounds for females and 70 to 95 pounds for males, which is what we breed. A profile of the breed, health information, grooming, history, temperament, about breeders, hints, psychology, and miscellaneous information on housepet Malamutes, dog shows, and puppies are here at O'Mal Alaskan Malamutes website. Note I said house Malamute Malamutes, since that's what we have - no kennel dogs here! Yes, it gets pretty crazy having them all in the house!
Sadly, many of these beautiful arctic canines get abandoned at shelters or rescued by purebred rescue organizations every year. Malamutes tend to be very pack oriented, unlike most other breeds. Pushy and dominant - the Alaskan Malamute is difficult for some people to live with. Shelters prefer to adopt most northern breeds to homes having fenced yards - Alaskan Malamutes won't stay on unfenced property - roaming, hunting small animals and deer.
The AMCA or "Alaskan Malamute Club of America" educates puppy buyers on the breed temperament and unique characteristics of the arctic sled dog. Members of the AMCA since 1989, we aspire to be reputable breeders that abide by the club's code of ethics, and consider ourselves hobby breeders. We live in Trenary, Michigan and my web site contains stories, pictures and general information regarding Malamutes as well as general characteristics of the breed.
We occasionally breed AKC registered puppies available to Malamute homes and sometimes to show. Did you know an incorrect long coat is called a wooly coat? It looks similar to the fur on a Collie. Groomed it is beautiful to look at, but may pose quite a chore due to matting and may require a professional groomer's assistance. Most breeders sell Alaskan Malamute woolies as Malamutes (or should!) and typically woolies aren't shown since the wooly long coated Alaskan Malamute is incorrect, albeit beautiful.
Malamutes originated in Malmut Sound Alaska and were bred by the Inuit people of northern Alaska. A native American breed, Alaskan Malamutes have been recognized by the national breed clubs and AKC, CKC, UKC as strong, intelligent and dominant requiring exercise and a fenced yard. The Malamute was recently named the official state dog of Alaska! Alaskan Malamute puppies may be cute, but Malamute rescues and humane society organizations get them too often as Alaskan Malamutes tend to howl, dig, challenge authority, and be quite mischievous. Sled dogs are capable at showing, working, and pulling but can be difficult to train in obedience or agility. They were bred to pull heavy loads over long distances in the arctic for Inuit families until the turn of the century when snow machines became the preferred mode of transportation.
While an Alaskan Malamute may be comfortable in cold arctic winters in Northern Alaska, he can make a wonderful housepet too. Alaskan Malamute fur sheds and will "blow" during the warmer months, so they can be comfortable indoors year-round. They have beautiful double coats, and require regular grooming. Proper care of an Alaskan Malamute's coat allows best comfort in warmer climates as house Malamutes. Breeders of quality Malamute companions of excellent temperaments, we hope to produce purebred Alaskan Malamutes that enjoy conformation, obedience, agility and most of all, be wonderful family Malamutes. We don't use kennels, our dogs live inside our house and love children. O'Mal's goal is to improve every aspect of genetic health and temperament of the Malamute as he fits into modern society long into old age.
---
Our dogs are our pets, show dogs, and family and live in the house with us. Please look around and meet our pack. We offer a wealth of information about what the breed is REALLY like. We don't gloss over the details and want you to understand the tumultuous ride you're in for if you're a first time Alaskan Malamute owner - BEFORE you buy a puppy somewhere and it ends up in a shelter or rescue! We are celebrating our 14th anniversary online - we are probably one of the longest running personal websites about the Alaskan Malamute. If you discover any problems with anything, or would just like to say hello, I'd love to . As breeders, we practice accepted methods of linebreeding to ensure the health and temperament of every puppy. Thanks for your long time support and interest in our family website. I just love when you call years after a first contact just to let us know how you're doing or when you're thinking of another mal. Just makes my day knowing that your first mal had a great home and a person that hung in there despite the challenges!
Any unauthorized duplication of this website is strictly prohibited.  Violators will be prosecuted. We are happy to share some articles with rescues and public service groups with permission and a link back - but please ask before taking. If you want to just link to an article on the site - no problem, please do!