A Walk down Nostalgia Lane
About 12 years ago I had just updated our new site in Front Page and had moved it from http://www.geocities.com/Heartland/Bluffs/5377/omal/homepage.htm to Tripod because traffic was starting to shut down the site intermittentantly. On free hosting they only gave you so much bandwidth and we were outgrowing ours. Along the way I bought the domain name omalmalamutes.com - I really don't recall when! It was http://s89354628.onlinehome.us/omalmalamutes for awhile and a few other things in between before I finally spent the "big bucks" ($10) for a domain name. I experimented with all kinds of "state of the art" things like backgrounds, music, drop down menus, javascript, Flash, ugh...frames, swirling carousels, animated gifs, and more (which seem decidely awful now - but they were "cool" then) and learned everything I could about web design....but the test of time is that our O'Mal Alaskan Malamute site is still here...better than ever. But just for kicks, lets look at it the way it was then (most links don't work and some images are long lost, but this is just for fun anyway)...Vista couldn't even read the CD it was stored on so I had to enlist an old XP computer to read the files and convert them!!! Some are pretty cheesy and warning - may crash your browser so view at your own risk...but if you were with us then...it's kind of fun! Lets take a walk down memory lane...some of the articles have barely changed and the information is as good today as it was then....and sadly, none of the original dogs are still with us - but we do have their grand children and great grandchildren to continue the O'Mal lines....
If you'd like to explore other sites from long ago, visit the waybackmachine internet archive. You'll need the original address...the one above was from 1998-2000.
Before 1999 - I no longer have the original site that was built in Front Page, I don't even remember what it looked like except it's always been "blue". After 1999 you can view them below in Internet Explorer - they may not work unless you have sun java, flash, and javascript enabled. You may have to click the security bar (asking to allow the content) because protection against rouge webpage scripts wasn't necessary back then...and Firefox wasn't invented yet . If you have a Mac...I don't have a clue what you'll see!
O'Mal Alaskan Malamutes - 14 Years ago....Back to 1998 (homepage - requires sun java for the "lake effect" to work - and it does if you have it)
And a few other incarnations of the homepage ....
This one will make you dizzy...2002 (if it works...warning, probably won't work in MOST browser -today - spinning rotating pictures - requires Javascript enabled and does work in some browsers today)
My first attempt at a Flash Intro....2003 (just homepage - requires Macromedia Flash Player)
Updated Flash Intro...2004 (just homepage - requires Macromedia Flash Player)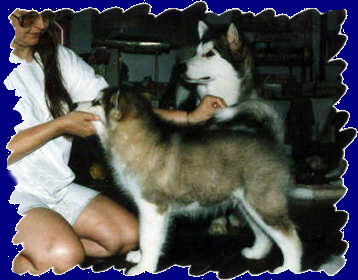 Skinny me with long hair and big glasses!
How we chose our Logo...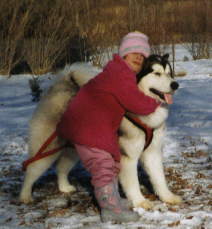 We've been asked where the idea came from. We considered several ideas, but none represented our dogs' love of kids, strength and beauty more than this picture of Stephanie hugging Homer after a sled ride one afternoon in newly fallen snow. Also, the "mal" portion of our name is derived from mál- `prince' and meant `nobleman' - and that our name is oMALley...wasn't that convenient?. What more appropriate prefix for a breed that is the "King of Dogs". The fact that we lived in "howell" for many years is just a coincidence! Woo woo :- )
WE WERE BANNED IN CHINA
This site was proud to be BANNED in China since 2002! (we proliferate so much subversive information here!). Since about 2010 it was finally allowed to be seen but since it wasn't in Chinese, nobody could read it. Then, thanks to a fan and wonderful new friend Yani Zhan who was so kind as to translate several page we now have a Chinese version of the website! We're officially international. Check out http://omalmalamutes.asia Here is the list of previously banned sites (I think some still are and for some reason we're still listed): Inacessible Sites Tested by Users of the Real-Time Testing System - right between Google and UCLA. Search for omalmalamutes on the page - I find this hilariously funny! We're right up there with Playboy, Dissident.cjb.net, CrimesofWar, and CBS News, CNN, Google, and more...the truth is out there and we have it! And you thought Malamutes weren't that big a deal - really!
..