Our Contract...because we care
Yes, we know it's very specific and detailed but that's because we care. There is always room for flexibility, but generally, we want you to know exactly what we expect from you and what you can expect from us. We will and have enforced our contract when the dog was in a bad situation (See Shadow's story). In return you'll know exactly what you can expect from us and we are always there for you. A contract that doesn't say anything doesn't protect anyone.
View our Contract for Pet Owners
Are you a family looking for a new furry family member? ; Do you know the difference between "pet quality" and "show quality"? (usually the price!) The main difference may be the puppy has a quality that would make it difficult or unable to be shown - such as minor structural problem you wouldn't notice unless the breeder pointed it out.; Though not "perfect" (and no dog ever is, even the show quality ones), it will still make a fine pet.
Interested in showing or breeding?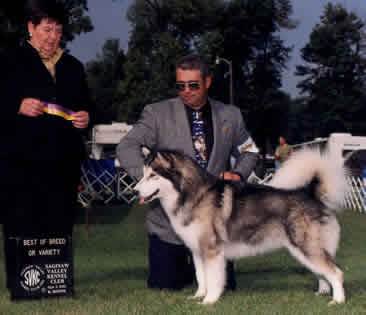 < /p>
So you think you want to show and/or breed?; Do you realize the expense involved and training you'll need to be relatively competitive?; Have you researched bloodlines, genetics and health problems specific to Alaskan Malamutes and read every book you can get your hands on?; What kind of experience showing and with this breed do you have? ;
What does a new Malamute puppy need?
A recommended list of starter puppy supplies.
If it's been awhile since you've had a puppy, this list of basic supplies can help.; It's easy to forget how much energy and how many toys a puppy needs - especially if your last dog was in the geriatric crowd..; Puppies do NOT make good holiday or birthday gifts - it is totally unfair to the puppy to go to an unprepared owner.;; Learn everything you can about your chosen breed the Alaskan Malamute and it's needs, then collect your basic supplies.
How do we raise our puppies?

Music Appreciation?; No newspapers?; Field trips?; Yes we're weird.; We raise our puppies somewhat differently, in the house, in our kitchen, with lots of attention and love and our puppies benefit from the results.; They even interact with our adult dogs for a well-rounded, well-socialized personality.
We appreciate your questions, suggestions and views. We love the Alaskan Malamute and feel as a breed they are not understood very well by the ordinary puppy buyer. Write to us about your thoughts about how we can make this website more helpful for the new Malamute owner.
;