A Litter from beginning to end -
What a successful breeding should be...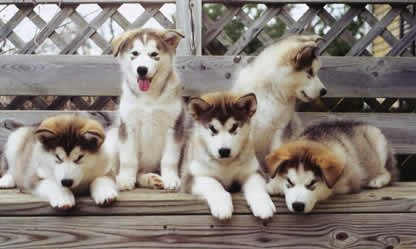 Every quality breeder has high hopes for the future and hopes to produce beautiful, healthy, sound and good temperament puppies. Not all matches meet our expectations, and some exceed them. However, every breeding should be with the intention of improving health, structure and temperament while retaining the most important breed-specific qualities of the Alaskan Malamute called "type". Type means "looking like a Malamute", but it should also include strength and endurance, a strong will to survive, intelligence and good problem solving abilities. To complicate matters further, Malamutes come in several different "styles". Different lines will have slightly different looks, depending upon where the emphasis has been placed. For example, some lines have very blocky heads, while others have a more narrow head - and of course there are many different colors, body styles and so forth. All may be correct but are a matter of preference.
The problem of breeding show-dogs is often they are never "proven" by working at what they were bred to do. We have to admit, our dogs are mainly housepets - so from a genetic standpoint, the breeding of Star to Sprite, who was on the 1994 all Malamute Iditarod Sled team was a beautiful blend of working ability with beauty and temperament. A breeder should always try for a harmonious blend of characteristics. Just because a dog is a "big name" or "big producer" does not mean he will produce the very best puppy from a specific female. What matters more is whether it is a good match - and that is sometimes difficult to know ahead of time. Breeding dogs is a bit of science, a bit of art, and a bit of luck.
O'Mal Malamutes are carefully linebred on some of the best AKC/CKC Malamutes in breed history, and screened for genetic disease and good temperament. All are certified clear by OFA or PennHipp (hips), CERF (eyes) and have a low probability as certified by the AMCA for CHD (dwarfism). Any dog we breed, whether an AKC/CKC Champion or not, has outstanding qualities that should be passed on to the next generation. We don't breed often, so we have to breed intelligently.
I hope you will enjoy following through a remarkable litter had. This litter produced Holly and her siblings. It was a wonderful combination and produced wonderful puppies. Whereas, no dog is without faults, this litter produced above average quality for which we are pleased and proud. Let us introduce the proud parents...
American/Canadian Champion O'Mal's It Was Love or "Star"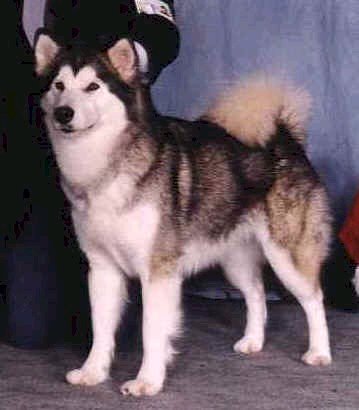 &
Champion Storm Kloud's Wwon'n Great Taste WWPDX, TT, WTDX or "Sprite"
Sprite was a member of the '94 All Malamute Iditarod Team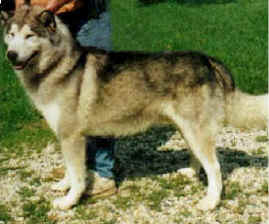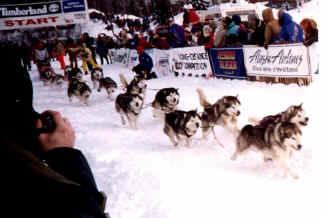 Photo by Bob Russell, Storm Kloud Kennels
In our quest for the "perfect" dog we chose Sprite from Storm Kloud Kennels, champion and holder of several working titles for our girl Star. He had several qualities we admired and wanted to bring into our lines. He is a large dog, (whereas Star is a touch smaller than we'd like) with an absolutely wonderful temperament. He was also well-rated by OFA (hips), had no serious health problems himself or in recent ancestors, and had produced nice puppies before. He also did not carry the "wooly" gene which was a plus since Star did! The perfect guy for our girl! Sooo....