How are they with Cats?
If raised with cats, Alaskan Malamutes can become very close, loving and protective of them. If not raised from a young age with cats (the critical time being between eight weeks and six months), many Malamutes will be dangerously predatory toward them - hunting and killing them as if they were a squirrel, rodent or small animal. Malamutes that grow up with one or more cats will usually consider them part of their pack, be protective of them, play nicely and cuddle with them and generally enjoy their company. Not that every cat is so trusting of the Malamute. If you have or intend to have a cat EVER, it is best to obtain your Malamute as a puppy and socialize it to the household cats young. It is best to have the cat first, as the cat will always think of itself as the alpha/dominant creature, and if a young Malamute puppy is brought into the home at a young age and introduced properly, he will accept this.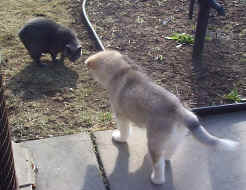 Hey, what are you?
While we don't have cats ourselves (allergies), but our puppies have gone to homes with multiple cats and have done wonderfully. Tova has nurtured and mothered injured strays and motherless kittens. Frosty has multiple cats. An unusual situation was River who as an adult went to a home with cats and adopted them as her pack. She had never seen a cat, to our knowledge, before this. This is very unusual and we attribute it to River's soft sweet easily intimidated personality. Things to consider strongly if you choose to have Alaskan Malamutes and felines: (1) introduce the dog as a young puppy if possible (2) allow both species a way of getting away from the other (3) supervise and allow NO predatory chase games. (4) If you have indoor cats, don't automatically assume your Malamute will be good with outdoor cats unless socialized to them as a puppy.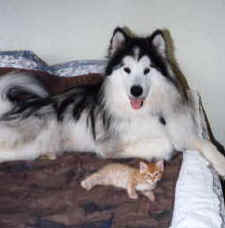 Tova and Cooper the kitten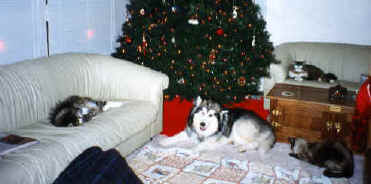 River and her cat pack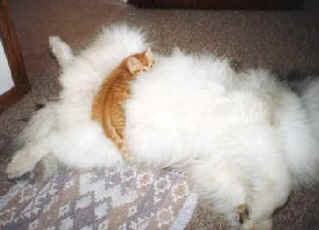 Naptime for Tova and Cooper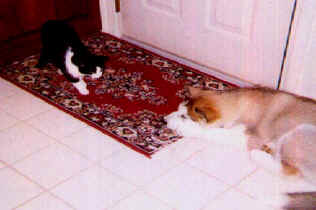 Frosty and Georgia the cat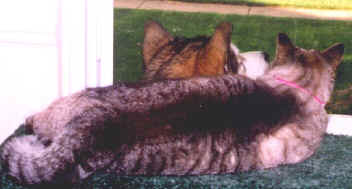 Frosty and friend watch out the window
The Cat and Dog Gallery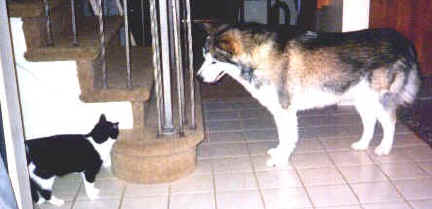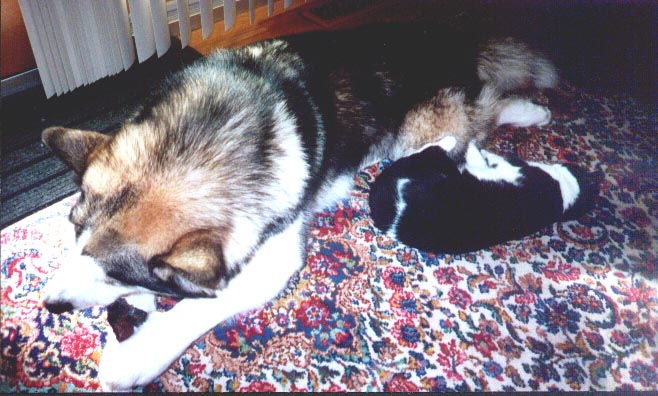 Frosty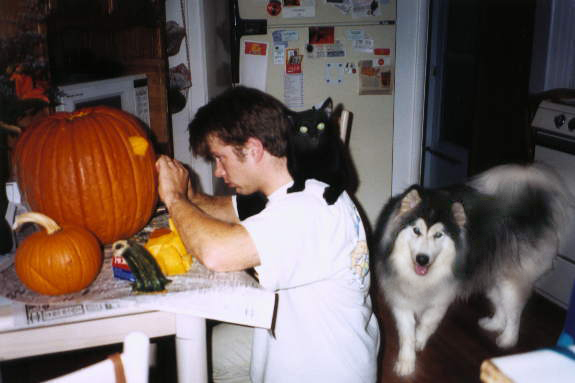 River