Hoover


Hoover was a big sweetie that got along with anyone. At around 11, like other large males we've had (Homer and Shadow), he lost the use of his back legs. Degenerative Neuropathy is the term for it, the cause is unknown but it's common in many large breed dogs. But before this, I could always take him anywhere and know he'd fit in. He was always carrying a stuffed animal and we'd dress him up for the holidays as Santa Claus (Hoovie Claus). He went trick or treating at Halloween and walked in local parades. Even though Hoover eventually could no longer walk or even sit easily, it didn't stop him from being Alpha and yelling at Riggs! He may not have been mobile, but he was content with his lot in life. He has always been the perfect Malamute - a gentle non-aggressive personality and beautiful structure and coat. He took a lot of guff from Homer as a "kid" , who like an elderly father, had to tell his son how to do things - but Hoover took it graciously! For years he was like Prince Charles awaiting the throne - and he finally got there! Slowly he took over the alpha job - collecting toys in his crate (never allowed before). Before handing over the reins of the alpha job, Homer made sure he would always have Hoover's respect as the elder male. These two unneutered males got along wonderfully together, even when the girls were in season. Since acquiring his alpha role when Homer died, he would sit in his crate and "yell" (deep woos) at any dog that isn't doing what he/she is supposed to be doing - something Homer always did before. Holly and Star were his best friends. I think he liked the way they bossed him around!
Hoover liked cats and tolerated small yappy dogs with grace. He always had a large stuffed animal in his mouth, but never destroyed it. He had great house and dog manners and was always willing to try and help whenever I need to move him (I'll say "Hoover let's rotate" and he'll try as much as possible to help when I pick him up to change sides). The only thing he ever really hunted was house flies, although Homer taught him how to hunt rabbits in the back yard and he was pretty good at it. Even when disabled, he still gave mini "Hoover Hugs" which were full body snuggles that can knock you over - then he would burrow his head into your body to snuggle. Hoover loved attention, and wanted everyone to get along. He never started trouble and always would walk away rather than fight if possible. Untimately, at the end, he had to depend on us to protect him from the other dogs, but he's ok with that. He still had an incredible amount of dignity and zest for life!
Hoover was gentle, easy-going, very affectionate and didn't want to upset anybody. It upset him terribly when someone was angry and he hated seeing someone cry. He has a gentle WOO that makes your heart melt! His favorite treat was praise and attention and he loved chin scratchies. His final job was official dish licker, door greeter, toy squeaker and most of all, yelling at Riggs telling him what to do (and that includes don't STARE at me!). Hoover is a Labrador Retriever in a Malamute suit! Hoover is everybody's friend.
I converted an old wheelchair so he can go for walks around the yard which improved his morale immensely. Is it a problem having a paraylized, old dog? Nope - not if it's Hoover. He has always been so laid back and easy going and nothing has changed there. He asks for little - water and to go sit in the grass on a nice day - we owe him at least that! He'll always be an important part of our pack and we are thankful for every day we were able to enjoy his mellow sweet personality.
Hoover's Album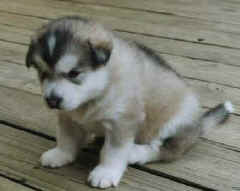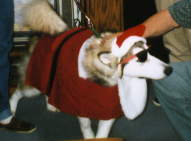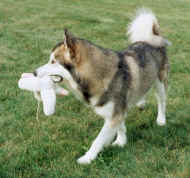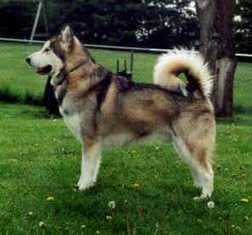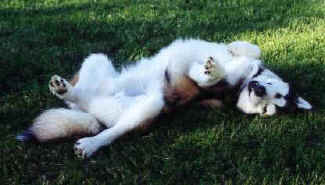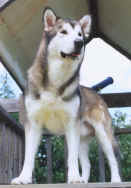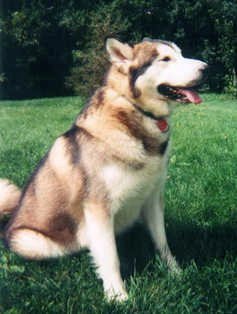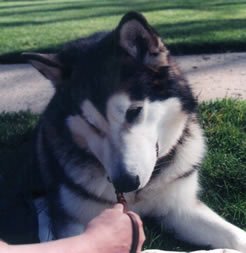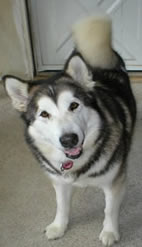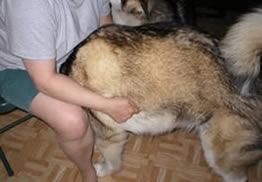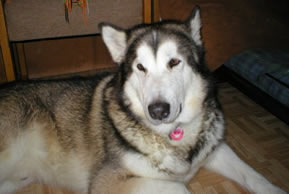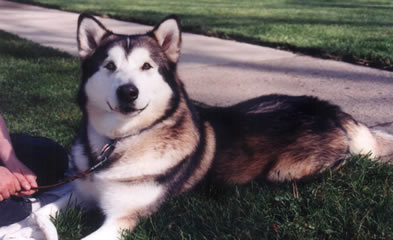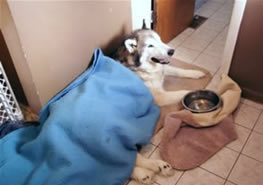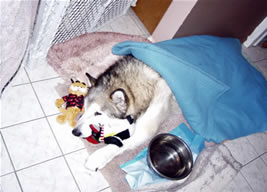 Visit Hoover's site (dedicated to Hoover, Shadow and Homer) at DogsWithDisabilities.com for information on dealing with a disabled dog