Cost to Breed and Raise a Litter
(or why does a purebred dog cost so much?)

We've been asked often - why are puppies so expensive. Everyone seems to think breeders are raking in the cash when a puppy costs more than a couple hundred dollars or the price of a few bags of puppy food. There is more to having puppies than just feeding them! It was never more evident than when we had the 11 puppy litter - everyone seemed to imply that the puppies should be cheaper because we had so many! So not true!!!!! I've yet to find a vet that gives a really good group discount! So I'm going to itemize typical expenses so you can see why it costs "so much". It's not cheap to raise a litter of puppies PROPERLY so they go home in excellent health with good temperaments. It takes time, dedication and a huge credit card bill that usually lingers long after the pups have gone home! We always charge less than it costs us to raise our puppies. In many ways, we're subsidizing your puppy - which is why we want only the best homes (since we're absorbing good part of the costs of creating and raising your pup just so we can breed one for ourselves). There's an old saying - not sure where I heard it - but it's cheaper to buy a puppy than to breed one - SO TRUE! But if you love to show, and find satisfaction in creating something unique and beautiful while seeking the holy grail of the PERFECT dog - you HAVE to breed your own puppy and in doing so, you get a few others at the same time (which hopefully offset some of the costs associated with breeding that awesome dream litter you planned).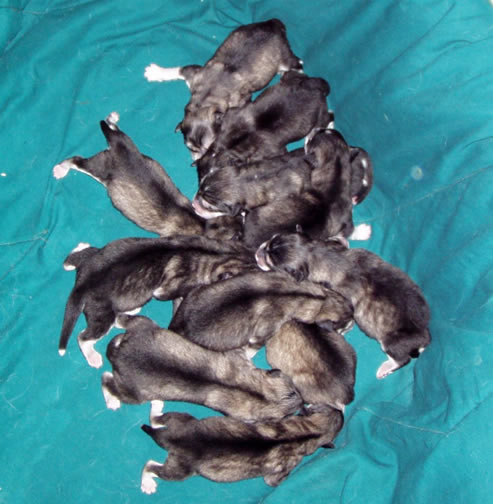 What price is sleep and 24/7 care? Missing work because you're too tired from being up all night supervising mom so she doesn't squish a puppy? We have an enviable survival rate once the puppies are born - we've lost two puppies in 24 years of breeding (an umbilical hernia that ruptured in a newborn - and Shuffle who was crushed by mom at 5 weeks after almost losing her 3 times before that because she was too small at birth). That's because we're there for the mom - she's not alone out in a kennel or garage where anything can happen unseen by the breeder. If necessary, we'll sleep with her the entire time the puppies are with her (usually until they go home). We sit with her through delivery and are always nearby to make sure mom doesn't squish a puppy and that all are fed and supervised properly (sure it's a lot easier to raise them outside or a kennel because there's a lot less they can get into - but you are also more likely to lose puppies to cold, disease, new moms or accidents as well. And they don't learn to be good house Malamutes that way either....)
Not every breeder does all that we do (i.e.. shots, microchips, pre-visits to new homes, etc.) and I suppose if you didn't do some things (like vet care and quality food) you might be able to even make a profit if the litter is large - but our concern is that our puppies get the best start possible. Sure, you can spend less buying a puppy from someone else - and then spend MORE in vet bills later nursing your puppy back to health (if it's not too damaged by being raised improperly or from some disease it caught in poor living conditions). To us it makes more sense to give you a healthy puppy you can enjoy and play with, rather than waste his puppy hood nursing him back to health...but that's just us. We are very proud of the fact that every puppy we've sent home went to the vet and got rave reviews - no fleas, no disease, no infections and they're CLEAN and well socialized too...(which doesn't just happen by itself).
At any rate, this estimate based upon semi-urban midwest prices in 2008. Sometimes we'll do our own shots to save a few dollars like most breeders but that's a drop in the bucket in the overall scheme of things. This includes all the things most good breeders typically do for their litters. We won't ship our puppies or our bitch, so you'd have to ask someone else about those costs. First column is minimum amount for a 4 puppy litter without complications- second column is a maximum amount or based on a 12 puppy litter with complications. Most Malamute litters are between 4-6 puppies and sometimes you have complications and sometimes you don't - but unless you have a crystal ball you never know if the price set for the puppies will cover enough (it never does). Remember, we have to come up with a price before we even know how many we'll have or what the complications might be - and I'd say 90% of us estimate low (does anyone ever expect serious problems? If you did, would you breed?).
And don't forget...the costs don't end here. A good breeder will ALWAYS take any dog he's bred back at any time in it's life should it lose it's home for any reason....so then there's finding a new home or feeding and vetting the returnee for it's lifetime if a suitable home can't be found (and that's the rule more often than not)..
Cost of Breeding A Litter of Malamute Puppies

Low Estimate

High Estimate

4 Pup Litter
12 Pup Litter

Show dog at AKC events to ascertain quality (avg. championship costs between $10-20,000 to achieve)

??
??

Travel to meet and compare various stud dogs (if not own stud)

??
??

OFA, CERF and CHD certifications of health for Mom (and Stud if owned by breeder)

240.00
480.00

4-7 Progesterone tests to pinpoint accuracy of timing @50/every 2 days

100.00
350.00

Brucellous test and health check for bitch

50.00
100.00

Stud Fee to Stud Owner

500.00
2,000.00

Lost wages (time off work to travel to stud dog)

210.00
420.00

Travel to Stud dog (gas, tolls, meals) (local vs. out of state)

20.00
900.00

4 nights at mid-priced dog-friendly lodging @$80/night (not counting hours on phone finding it)

320.00
320.00

Non refundable security deposit per night because of dog $20/night

80.00
80.00

OR Airline fare and boarding to fly bitch to dog for 2 wks (we don't do that)

?
?

Semen Collection if Stud won't/can't breed the bitch (veterinary expense)

350.00
500.00

Implantation (surgery) or Trans cervical introduction of collected sperm into bitch

350.00
2,000.00

2nd Trans cervical (better results with second attempt)

350.00

Lucky enough to get natural breeding (Celebration dinner)

50.00
50.00

Ultrasound to check on status of breeding - did it take?

50.00
200.00

NO PUPPIES YET, just preliminaries (double if breeding doesn't take) SUBTOTAL

2,430.00
6,920.00

Accumulate needed birthing supplies (clamps, heat lamp, heat mat, siphon bulb, replacement milk, etc.) assuming already have some things from previous litters

25.00
50.00

Update website and get puppycam ready (hosting)

50
50

Begin feeding premium food in anticipation of pregnancy

80.00
100.00

Prenatal vitamins for bitch

20.00
50.00

X-ray to confirm pregnancy (Reproduction Specialist Vet), make sure vet is on call that weekend

100.00
200.00

(it's always on a weekend or most inconvenient day)

Miss work to deliver puppies (sick time or lost wages)

0.00
140.00

Birth Expenses - Natural (have oxytocin, other drugs on hand for complications)

80.00
100.00

Birth Expenses - C-section/Complications

2,000.00
7,000.00

Emergency visit cost (weekend, after hours or fading puppy vet visit)

100.00
200.00

PUPPIES ARE BORN!

AKC litter registration $25 + $2 per puppy

33.00
49.00

More premium food for nursing mom and puppies (once weaned)

500.00
1,000.00

Nursing Mom refuses eat premium food, demands steak and cottage cheese instead

200.00
500.00

Vet Emergency that always happens (stepped on puppy, Mastitis in mom)

100.00
500.00

Start puppies on solid food (hamburger, cottage cheese, premium Puppy food varies by breeder)

50.00
200.00

Worm puppies 3 times (assuming 4-12 puppies) - Vet visit $35 and $25 each

405.00
1,005.00

First DHLPP shots for 4-12 puppies (2 shots each) and Vet checkup $95 and $35 each

470.00
1,030.00

Purchase and insert microchips $100/puppy + vet visit

450.00
1,250.00

New and replacement puppy toys, towels, baby gates, other misc. necessities

50.00
100.00

Home Destruction (replace chewed woodwork, cords, repair furniture and rugs etc.)

100.00
900.00

Advertising for homes (1 magazine, website - prorated, etc., word of mouth)

50.00
300.00

24/7 job of supervising new mom, making sure puppies are safe and fed, laundress, playmate and poop picker upper

??

??

Individual AKC registrations (per puppy) $20-55 per puppy

100.00
660.00

Register Microchips (lifetime registrations @ $50/puppy)

200.00
600.00

Puppy field trips to new homes and for socializing

20.00
240.00

Assemble puppy "going home" packets (copying, food samples, collar, etc.)

40.00
120.00

Final vet checkup $35 office visit plus $25 per puppy

135.00
335.00

Photos/developing, communication w/puppy buyers (digital/film - email/long distance charges)

0.00
300.00

Eventual Sleep and a Healthy Mom and Puppies - Puppy breath and cuddles

PRICELESS

PRICELESS

TOTAL COST TO BREED A LITTER OF PUPPIES? TOTAL

7,788.00
23,899.00
litter of 4
litter of 12
no complications
complications
Typical Income from a litter of puppies....you figure it out...