Malamute Decor
Solution-Based Decorating for Dogs in your Life
When we had one dog, carpet was fine. It was grayish and matched the Malamute fur. With two and three dogs we vacuumed more and cleaned more nose prints off windows. But beyond that many, the amazing thing I started to notice is that dogs make DUST. Yes, dust. It's something you don't think about! You expect hair, and muddy paw prints and smeary windows but you don't expect dust! What is dust? Just dead skin and dander, so it makes sense to have more dust with more bodies in the house.
Since we do have several indoor dogs, we are always looking for ways to make it easier to keep the house easier to maintain and have it look nice. Along the way, we've discovered a few things that work - and a few that don't. We've got lots of dog loving friends and have included their ideas and suggestions too. If you have something that's worked for you, feel free to write. So until I ceramic tile all the floors AND the walls so it can be hosed down ;-), here are some ideas that have worked for us in the Decor á la Dog department.
I also must put a note in here about destruction. Your Malamute doesn't have to be a home terrorist. It's called teaching them MANNERS. If you don't want them peeing on the walls, teach them. If you don't want them chewing up furniture and doors - TEACH THEM. If you want a clean house - keep your dogs clean. Yes, some are harder than others, but you wouldn't let your children destroy your home - why let your dog? I'm getting tired of the attitude that Malamutes are so destructive your house will be a shambles because you live with them. No, only if you let them. Yes, they can be more destructive than most dogs - but with sufficient toys, an outlet for energy and manners learned as young puppies they make GREAT housepets. And your house doesn't have to look like a battle zone (at least until they shred that toy).
Here is our house - it's got Malamutes living in it at all times. The messiest room is my Office! Note no carpeting, and all the dogs lounging around....now that we're up to 10 (with 4 of them puppies, everything doesn't look quite so new!)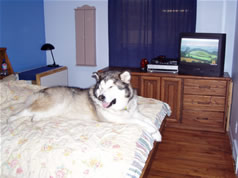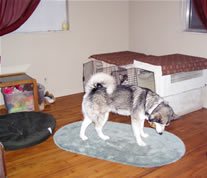 Riggs watching TV in the bedroom Jazzy and Moo in their bedroom
An extra "dog quilt" keeps the good quilt cleaner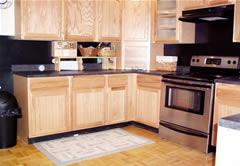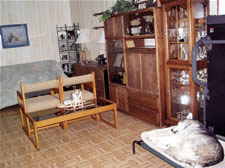 Kitchen - note the black countertops Dog-friendly (that's Holly) family room - easier to keep clean room furniture and flooring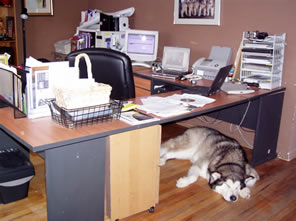 My messy office with Riggs - but that's not his fault!
Floors
Forget carpet - If you must have carpet at all -- get a Berber in a tweedy color as it holds up better to nails and dirt. Gray is a good Malamute color, or better yet, something with grays and light browns. When the carpet wore out we opted for oak hardwood floors covered in urethane (to resist nails) and with as many as we have they still need to be redone every couple of years. Vynal tile works well, but best of all is non-slippery ceramic tile. Best floor color? Terra-cotta! Some dogs have problems on slippery floors, but we've found they do get used to it unless they have severe hip problems or nails that are too long (so keep nails short). If you choose tile, choose one with a matte or even sandy finish. Choose flooring that can stand up to an occasional mopping with bleach or disinfectant. I tried a steam cleaner and while it may work for a couple of dogs, for many it's just not powerful enough. Avoid "waxed" wood floors, glossy tile and throw rugs such as orientals that can't go in the washer. If you are using real lambskin or animal skin rugs, you need your head examined (these are MALAMUTES....you obviously haven't read the rest of this site!). Avoid fringe on rugs - it will just get unraveled while your Mal is a puppy. Need a bigger "carpet"? The rubber backed ones that can be cut to fit a bathroom are very handy and bigger than your typical "throw" - usually 5' x 6' or larger. They don't slide and can go in a commercial washer when dirty. The best colors? Brown, with yellow and tan flecks show nothing.
Furniture:
Leather is good, it doesn't show wear, can be wiped clean and doesn't hold odors.We know a few people that swear by leather (as long as your dog isn't a chewer - sometimes leather is a little too close in smell to rawhides...). As a second choice I'd pick velours or cordorys - though they'll attract hair, it will not weave itself into the fabric and they resist dirt well when Scotchgarded. It holds up well and is fairly easy to clean. Wide tape is great for plucking off hair during shedding season and those new Pledge fabric sweepers work GREAT and can be reused over and over. Forget weaves...the hair will weave itself in and you'll never get it out though it's not as bad as short stiff hairs from a lab or rottie. A nice throw where the dog likes to lay is easier to clean than upholstery. If you're very particular you'll train your dogs to stay off the furniture altogether!I buy tables, chairs and bookcases from office supply stores because they are built to last for years. I love the futon furniture that has removable covers. Muddy paw prints? No problem!
Walls:
Whatever you paint them, keep an extra gallon of the same color on hand. The extra gallon is handy for touching up nail scratches on the woodwork or the lower part of the walls that just get dirty from dogs walking by or shaking when wet. Avoid wall coverings that are not easily cleaned. Buy semigloss or gloss instead of flat. I swear flat paint attracts dog grunge and will NEVER buy it again. Wood or Formica paneling halfway up the wall is easy maintenance in some rooms. Also, faux paint designs in brown and yellow never seem to show the dirt. My next house will be done in "early Veterinary Hospital" - take some ques from your vet - note the formica halfway up the walls and lack of real woodwork. Some have a very creative, but practical decor that would work in homes with multiple dogs!
Kitchen accouterments:
I am simply in LOVE with my new black marble-look formica countertop. Doesn't show dust, dirt or the occasional wayward paw print (try explaining that to a dinner guest!). It isn't too good if you don't train your family though - as bread crumbs show up quite well. I put down a parquet wood floor with several layers of urethane and I'll let you know how that holds up....well, it doesn't. Though it might be ok for a one-dog household, it's got a lot of "scratch marks" from the Scooby-do race through the kitchen (you know what I mean - where they paddle and run but get nowhere), though the color is good. I would love to know how the laminates hold up with multiple large dogs. One thing I added was a cupboard facing the family room that could hold a bin with a full 40 lb. bag of dog food. That has been wonderful - a Malamute "feeding center". When we decided to get a new kitchen, we opted for a Malamute friendly one - and one that wouldn't show the wear and tear (hopefully) our old kitchen took. I also like our new stainless steel "look" refrigerator - it LOOKS like stainless - but the nose prints don't even show - not sure how they did that but it looks like some sort of silver fleck automotive coating over the steel.
Screen doors (especially door walls):
If you really must, replace the screens with Malamute friendly screening or use a doggy door. They'll pop it out, but it won't get holes. The Malamute-resistant plastic screening seems to hold up well as far as holes go, but the dogs just pop it out of the frame so it has to be constantly put back. Malamutes will think nothing of pawing a hole through a screen or even running through it. That goes for low window screens as well. The best option I've heard is Malamute friendly screening backed with a heavy wire mesh. That keeps them from going through it and is secure. To protect glass panes from the Superman CPR pounding we opted for a heavy wire mesh over the glass at pound-height. It lasted about 6 months and needs replacing, but it saved the window many times. I would rather replace a protective screen than pick glass shards out of feet!
Car interiors:
Medium colors are best. Dark colors show all the white fur, light colors the muddy paw prints and guard coat when it blows. Give up and put covers on if it's really important to keep it hairless and clean (like a leased car). But most Malamute owning people with more than one dog don't have cars anyway - they have Sport Utility Vehicles, enclosed trucks or vans. There's not enough room in a regular car to transport more than 1 Malamute anyway. If you can order your vehicle without carpet I highly recommend it. My Ford van has a vynal floor that can be vacumned and mopped...no embedded hair!
Window coverings:
Avoid horizontal blinds -dogs just get caught in them trying to look outside and they're terrible dust catchers. Vertical blinds are better for dust, dogs can part them to look out without too much trouble. They can also be individually replaced if necessary which has come in handy with Max. He likes to pull them down one by one and chew them! (so make sure you have the no-lead kind). I've also heard the wood blinds don't hold up well. I do like the rolled bamboo blinds in that they are the right color (that yellow-brown) and don't show all the dog dust. Curtains are also dust magnets. Dark colors never seem to look clean. Sheers are better, but they must be high enough the dog's nails don't destroy them if looking out the window.
Avoid too much chrome, glass and anything that can acquire nose prints. Avoid clutter as that attracts the dreaded dust. The downside of no carpet is "mal bunnies" and fur balls drifting around. Wallpaper is difficult if you have a puppy that finds a corner and thinks it's fun to pull it off (just try and replace that pattern). Painted walls or faux wall-paper painted walls are better for that reason. Keep some touch up paint handy. I usually buy twice what I need to paint a room - then I can repaint the moldings and lower walls in a few months (or weeks with all these puppies) and it looks good as new. Mr. Clean Magic Erasers are the best thing in the world for getting grime off walls and moldings but they tend to take paint off the walls if it's flat paint and not semi-gloss or gloss..
Landscaping:
The consensus is either give your mal his own place to dig (like a sandbox) or don't allow it. If you like that decorative ground level lighting, put it in the front yard. Fence off flowerbeds and gardens (or suffer the consequences). If you have fruit trees, the Malamutes WILL discover them and eat the fruit when it falls or even attempt to climb the tree before it does! Gardens suffer the same fate - and they'll wait until it's ripe of course. Apple trees are a malamute snack heaven - unfortunately they are bad for their teeth and the seeds have arsenic in them. A symptom of arsenic poisoning is excessive drooling so if you have apple trees in your yard watch for this.
Toys:
Give your dog a toybox then teach him that's HIS stuff.That way he'll learn that just because it falls on the floor, doesn't necessarily mean it's his. Some other good, inexpensive toys are empty water bottles - they love the crinkle noise and the Mals make great trash compactors - just toss when done.
Doors:
If your dogs paw at doors, the best thing I've found that stands up to it is texture splatter paint found at the hardware store. It comes in a spray can and looks like tiny splatters and speckles. It's a pain to put on (the nozzle keeps clogging) but it's tough and worth the effort since it holds up to a lot of scratching.The paint on our front door lasted almost 7 years - which I feel is amazing.
Misc:
Hide bathroom wastebaskets under the sink or at least get one with a lid. If you can, do the same with kitchen trash. Eventually they'll figure out the lid, but it buys you time. Once they figure it out, I turn it backwards and that may discourage rummaging for a few more days. With puppies, don't assume anything. Get a crate and use it until you are SURE he is potty trained well and won't get into too much trouble. Just when I think I've got them outsmarted, they change the rules!Also, put the bar soap up high. I'm not sure why, but our guys love to EAT the soap. oo000oo.00ooo0o0 Bubbles!
How to hide the dog Crate: There are many new products out there now, if you're willing to spend the money, that are absolutely beautiful pieces of furniture that double as the dog's crate. I would not use these for a puppy (chewing) or a dog that gets separation anxious (chewing again). But they are very nice for an older dog that loves having a crate nearby, but you'd like your home look nicer than having wire or plastic kennels lying around. You can also put a cloth over a crate and use it as an end table.
Baby Gates: Baby gates are a way of life while your puppy is young. In my experience, I've found few all pastic ones that work well. I tend to prefer the wood or metal pressure gates. There are companies that make beautiful wood ones that can later double as accent pieces when the puppy grows up (if they don't get chewed). They are expensive, but if decor is important to you, they may be worth it.
In general, thinking ahead can make your home safer, cleaner and more convenient with dogs. With a puppy, start slowly - give them a gated area to learn the rules in, then expand to a larger area. Eventually you'll have a house mannered dog that is totally trustable everywhere. (except for rooms with WHITE carpet - what WERE you thinking???)