Malamutes in the Movies (and TV)
O'Mal's Frosty the Snowdog (his real akc name) says:
Can we talk?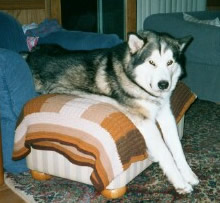 The new Disney movie "Snow Dogs" was a fun and entertaining movie. It's bad enough they stole my name, but all of us northern breed dogs are concerned about the danger to our wonderful breeds and the likelihood that later in the year rescue organizations would be flooded with hundreds of unwanted dogs bought because they looked cute in the movie. Mindful of what happened with 101 Dalmations and Beethoven, other Disney movies featuring a particular breed, dog organizations are gearing up to educate movie goers about northern dogs in the hope of slowing the demand and encouraging those that still want a Siberian or Malamute to educate themselves and consider a rescue dog. Ads are already becoming popular in newspapers placed by opportunistic breeders for "snow dog" puppies. We are concerned, though the movie is about Siberians, a certain number of people will decide Malamutes are "almost the same" and buy them without thought.
Malamutes have been in a lot of movies and TV productions. Here's a list of the ones I found, and if known, who starred in them:
Eight Below (2006) - 2 malamutes shown, with multiple malamutes as their stunt dogs - several of these were rescue dogs

The Call of the Wild (2000)
Kayla a.k.a. Kayla: A Cry in the Wilderness (1999)
White Fang 2: Myth of the While Wolf (1994)
Iron Will (1994) - Ch. Black Ice's High Speed Chase WLDX,WTDX - One of lead dogs. A Shadowmeir giant malamute, Koda, played the "villian" dog
On Deadly Ground (1994)
Dr. Quinn, Medicine Woman (1993)
White Fang (1993)
White Fang (1991) starred Jed a malamute/wolf mix as White Fang
Indiana Jones and the Last Crusade (1989)
The Lost Boys (1987)
The Journey of Natty Gann (1985) used Jed a malamute/wolf mix
Antarctica a.k.a. Nankyoku monogatari (1983)
The Thing (1982) (mal mix)
Nikki, Wild Dog of the North a.k.a. Nomads of the North (1961) - Sena-Lak's Alaskan Blizzard, Lefty, the Ding A Ling Lynx - Am/Can Ch. Kodara El Toro - Led 7-dog team
The Thing From Another World (1951)
The Ice Palace - Nuwuk of Ro-Ala-Ken and Kimik of Ro-Ala-Ken and Ro-Ala-Ken's Tooluk and Juneau of Sainak Sunai and Ro-Ala-Ken's Tooluk worked on the team
"The Alaskans" TV series - Kimik (sire of many sled dogs) and Kodiak
"Dog Steps- Denali's Ordas film about dogs in motion - Sparkle & Tooter - Hudson's Malamutes' puppies played wolf puppies
More TV shows - these shows used dogs from Ro-Ala-Ken Kennels:
Yukon King - TV show from the 50s / 60s featuring Sgt Preston and Yukon King, a giant Malamute (real name was Kim of the North).
The Munsters - TV show from 60s - Chena - Played Grandpa Munster (as a wolf)
The Christmas Tree - 1969 movie also known as When Wolves Cry - Wasco
The Wild Country - Wasco
Harpy - Wasco
Men from Shiloh - Wasco
Wolf Track - Wasco
"The Christmas Tree" - Shu-Chena
"Munsters, Go Home" - Shu-Chena
Young Indiana Jones Chronicles - Atanik's The Awesome Inua Appeared in the first episode
Koko (Ro-Ala-Ken) Known in motion picture industry as "Koko, the Wolf Dog" appeared in many adventure films of 1950's:


Back to God's Country
Call of the Wild
The Wild Country
The Wild North
Strategic Air Command
Lost in Alaska
Mrs. Mike
So while we've been in a lot of movies, take it from me, Frosty, the ORIGINAL snow dog, unless you are prepared for one of us, we can make your life miserable. Without proper socialization I would have eaten my cats instead of played with them. I don't particularly like other males, but since I'm a cool dude, I tolerate them without grumbling or growling. Not all of us will. And we have to DO something. Mark takes me everywhere so I'm a pretty sociable guy, but I wouldn't have been without great owners and careful breeders that put a lot of time and effort into my socialization and training. Help other Malamutes everywhere and tell your friends and neighbors we are not dogs that just sit around sipping pina coladas to look cool. If you'd like some educational material to give them, I would recommend this website (www.omalmalamutes.com) or some flyers that can be copied and printed by the Siberspace Rescue Fund. Don't forget to tell them Malamutes may be a calmer dog but we ARE more dog aggressive and therefore not a good choice for everyone. Enjoy the movie - I give it a paws' up.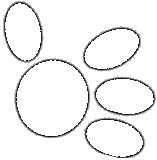 Frosty has since gone to the rainbow bridge, we will miss his incredible observations...but following in his footsteps, Riggs will be reviewing the remaining movies...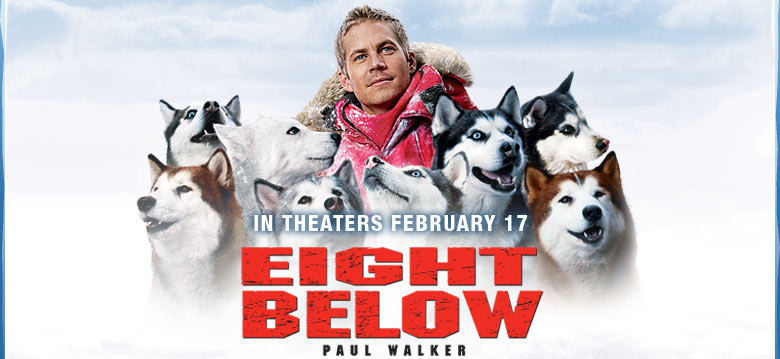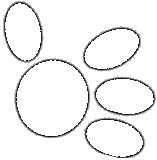 Riggs says: This is a very accurate movie about us sled dogs - one of the best I've seen. This movie is based on a true story and while only 2 dogs died in the movie, in the real story many more did (that's because they WEREN'T Malamutes in the real tale). The film is based on the true story of a group of explorers who are forced to leave behind their team of dogs for six months in the wilderness until a rescue mission is dispatched. I know us mals would have been just fine if we found a whale to eat like they did in the movie - but hey, they need a story don't they? I also think there were more than just 2 mals in the movie. They say most of the dogs were siberians, but Maya sure looks like a pretty mal girl to me! I give it a paw's up...
The GREY
Trailer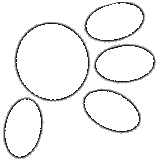 The GRAY - while we don't usually critique "wolf" movies unless they have Malamutes portraying wolves (which we take a dim view of)...this is the exception. The Gray is a movie with wolves in it, so at least it's not Malamutes protraying wolves...HOWEVER, we feel all animals should be treated humanely and from what we're hearing the 4 wolves in the Gray may not have been. It is our understanding all four were "trapped" wild and then 2 of the wolves were killed and EATEN by the cast on the set in British Columbia, Canada. Another version is that the "wolf meat" was trapped by a third party and flown in for the crew, then utilized in the service of the film? (What "utilized" means I'm not sure). We aren't sure if the gory scenes of a wolf head we've heard about are from an actual wolf. There's a lot of questions out there and the director just says "SHUT THE **** UP" which I find to be quite interesting if he did nothing at all. If any of this is true, we cannot condone nor recommend this movie - OMG I'm agreeing with PETA!!!! (must be a blue moon) . While the storyline is dramatic and compelling in the trailer, it also appears to be pure stupid in regard to how wolves are painted. Wolves do not attack people without provocation. Because people mistake our Mals for Wolves, I really hate to see them portrayed as vicious, blood thirsty beasts because you know where that will go (more breed bans because of the bozos that can't tell the difference). This is a PAWS DOWN because of a lack of transparency and potential stupidity on behalf of the makers of the film. Many groups are asking for a Boycott of this movie... others say PETA went too far...what do YOU think?
Visit the Alaskan Malamute Club of America's site that contains excellent information about buying an Alaskan Malamute, including genetics, health, questions to ask yourself, and more suggestions for choosing a breeder, click here.