Raising Puppies Right
Pictures courtesy of Jazzy's 11 Puppy litter aka the "alien 11" (named for the very crowded and alien looking xray taken)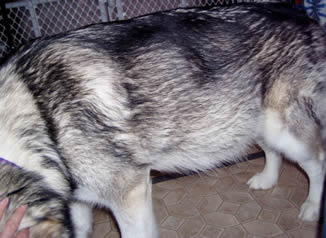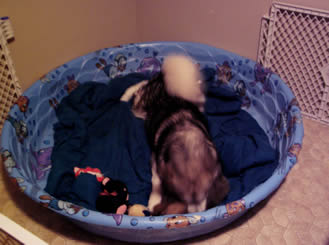 A very pregnant Jazzy Rearranging her whelping box to her own specifications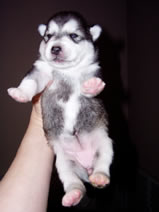 We learn their differences so we can identify them without subjecting them to dangerous ribbon collars or nailpolish marks. In this litter the only differences were their belly markings! So I made a cheat sheet and memorized it! Note the cheat sheet on the wall! It wasn't easy with 11! This also helps us learn their personalities from an early age because we know them well, you get a puppy that fits your circumstances best.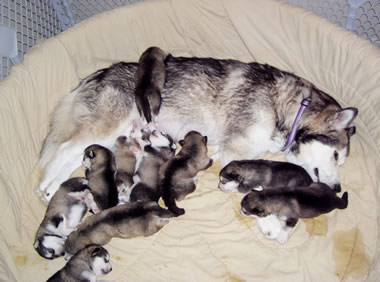 Mom and her new puppies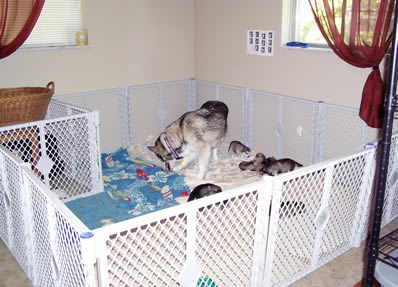 Safe enclosed play area for the newly moble pups
Before they are even born, mom can hang out and nest in the whelping box so she's familiar with her surroundings and comfortable. At first the puppies are raised first in the bedroom next to ours so we can hear everything going on. Then, when the pups are old enough, they move to our back room where we can provide an enriched environment with lots of toys, tunnels, and easy access to outside (for potty training) and lots of contact with us and our other dogs.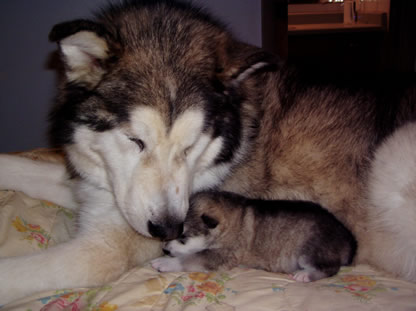 Riggs babysitting a 2 week old puppy and teaching him to appreciate TV
From the day they are born they are held and cuddled. They spend time hanging out with mom, and when their ears and eyes open, listen to the sounds of a home - a running dishwasher, a loud TV, a closing door. They grow up as part of our family and the pack. We give them temporary "puppy names" so each can become an individual and we can get to know who they are as individuals. No two puppies are ever alike and each has special traits and characteristics that make it special. The puppies are wormed at least twice and vet checked.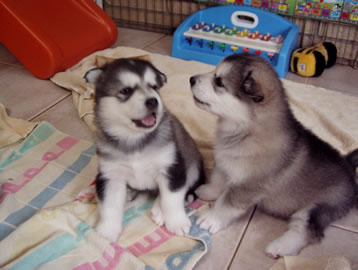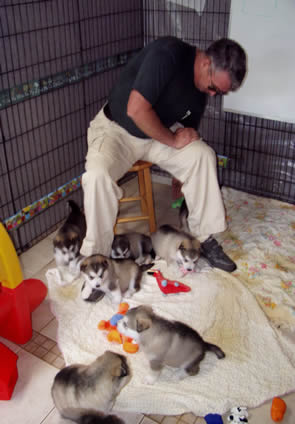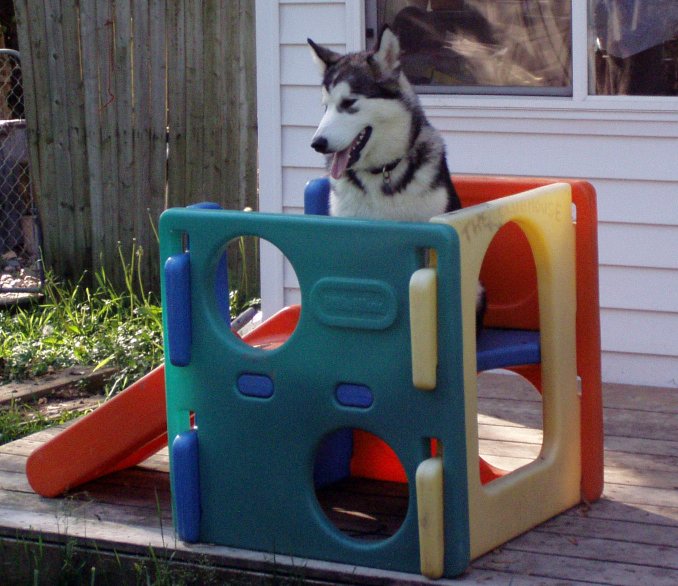 Once they're mobile, they move to Romper Room...an enriched environment with lots of toys and a play area that they can explore safely. This area is also under our bedroom window so we can supervise EVERYTHING that goes on - day or night. By now their new families that live nearby have been visiting often and know the whole gang really well. The families that live too far to visit often can keep tabs on everyone by webcam.
We raise them on terrycloth towels and ceramic tile floor rather than newspaper or carpet because towels and floor can be disinfected daily (or more often if necessary) so the pups learn to be clean. (If you've ever smelled or stepped in wet newspaper, you know what I mean). Many of our pups have immediately "buried" their feces with a corner of a towel to keep the area "clean" by themselves. Our puppies have many different types of toys to play with and learn the difference between "food" and "toys", so will rarely swallow toys or other foreign objects, unlike many kenneled dogs we know. This is about the time they get their first shots.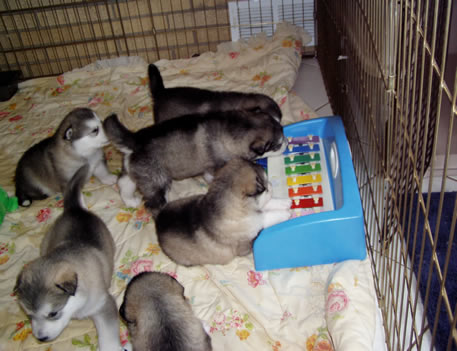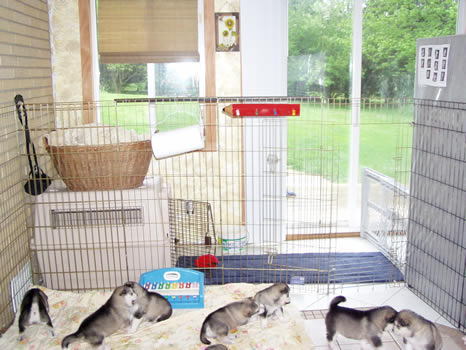 Music apprciation class and lots of sunlight and fresh air. Mom can come and go as she pleases.
About this time, the pups are also allowed to explore the rest of our house under supervision where they experience stairs, carpet, lineoleum, wood floors, ceramic tile, plants, cactus, and lots of trouble! They learn what "no" means when they discover and try and dig in a plant, or find an electrical cord. They learn their temporary "puppy names" and discover they have an identity apart from the "litter". All this time the entire pack, especially mom and our adult dogs helps raise the pups to have wonderful "dog manners" while we teach the people rules.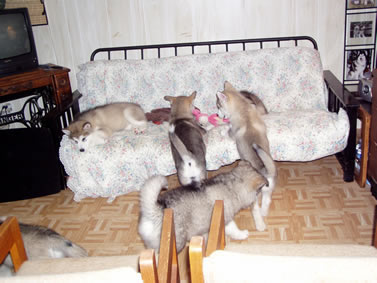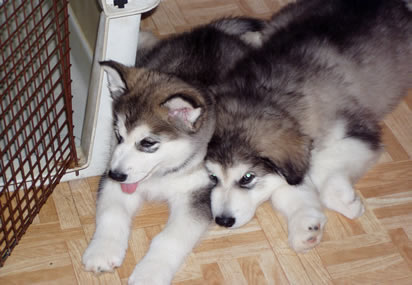 At 5 weeks they are allowed to play outside to experience all sorts of surfaces - grass, rocks, cement, wood deck, dirt, bushes. We begin teaching them not to dig, walking on a loose lead, and they get to play the grass, They get their first puppy shots and are wormed again. If it's warm outside, they even have a pool! We take pictures constantly! Mom is with them the entire time, teaching, and weaning gradually. The other dogs visit in their area in the house and play with them outside. They get to play in crates in preparation for future crate training.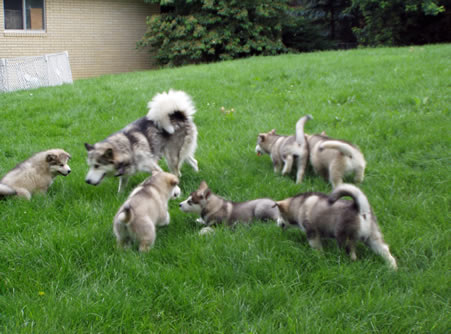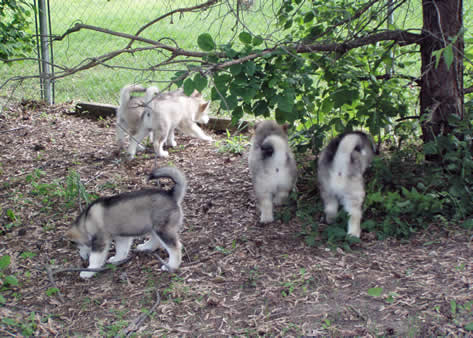 Lots of outside play with Mom and the big dogs too!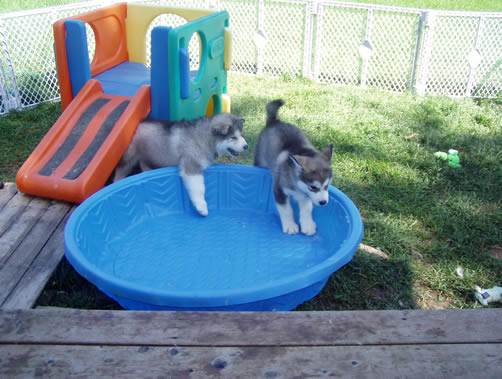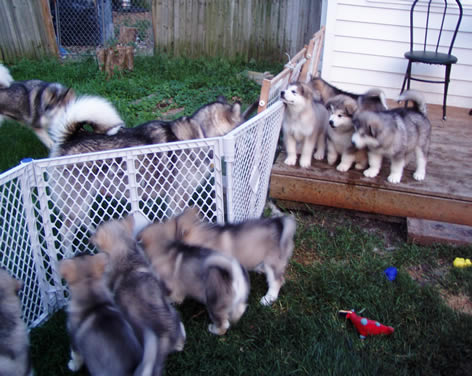 At 6-7 weeks we temperament test each puppy to determine his strengths and weaknesses, and begin considering which home each puppy should go to, though our final decision is not made until the final week. At 7-8 weeks the pups get their first outings and car rides: to the vet for health checks; for a ride in a grocery cart at the hardware store; or a visit to their potential new home. Most pups enjoy this as they are the center of attention! About this time they are microchipped and registered.