Working Alaskan Malamutes
Alaskan Malamutes need "something to do" and below are ways we've worked our dogs. Sledding in the arctic would be fun, and buying a sled or rig is on my to-do list, but so here are some activities we've tried beyond playing with and showing our dogs:
We went to the Renaissance Festival and Mula did her part by backpacking some munchies, water and stuff for us. She did a great job.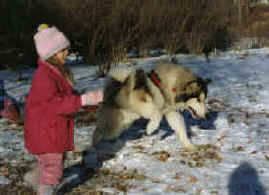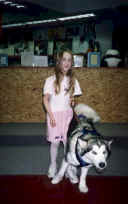 Sledding with kids School visits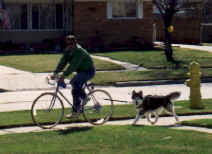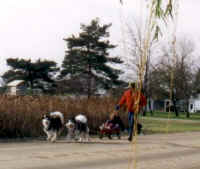 Biking Pulling a Wagon
I recently had a chance to go sledding! Mula took to it like a duck to water, and Jazzy freaked out - she said she'd rather be home watching TV....we plan to try again in the future - I'll keep you updated on our adventures here! (sorry, didn't get any pictures - I was too busy holding on for dear life!)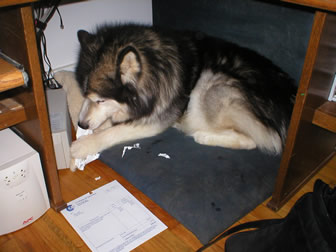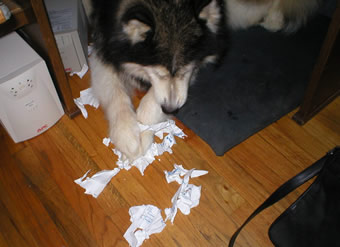 Some people have one of those electric shredders under their desk...in my office, I have Shadow....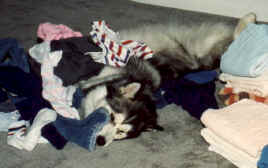 Folding Laundry??? Don't you wish!!
Jen and Kiska doing some Urban Scootering
But there's always the opening for Postal Inspector....
For Everything Sled dog related - this has the BEST links...Sled Dog Central
****
*****
Kirsten Hill has done some school visits with her Malamute Cheekah*** and found it very rewarding.
(faces are obscured because release only obtained from Kirsten) See Cheekah's tribute below too.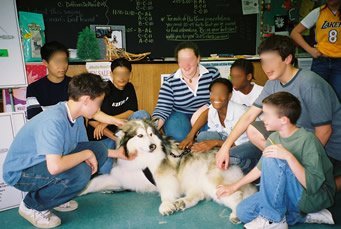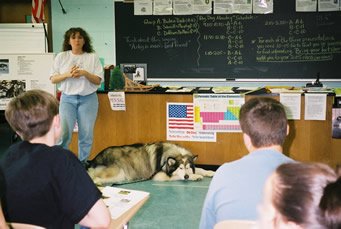 Obviously happy kids, and somewhat bored Cheekah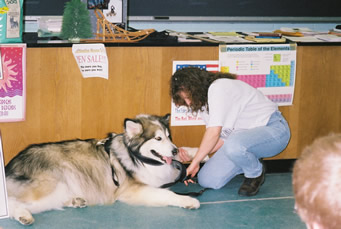 C'mon, put the harness ON.... Cheekah thinking, "they didn't ask me my slant on things"
Interested in what it's like to REALLY run your Malamute in a race? There was an article about when Malamutes ran the Iditarod Race in Alaska a few years ago. Holly's sire, Sprite, was one of these very special dogs! Very interesting! Also, Homer did Therapy work as a young guy and received his Therapy Dog title. A little about what he did is here: link opens in new window AMCA Newsletter Obedience Column.
Also, if you are seriously considering dog sledding, you might try these links to get started - they have great beginner information:
Interesting idea: Urban Dog Sledding
Working Dog Supplies
Many mushers start out with a scooter or adapted bike before they ever use a sled. There are many 'rigs' available and you'll want to talk to an experienced musher to help you decide which ones would work best for you and your dogs. In the meantime there are many things you can do to work your dog -from backpacking to skijoring. Below are a few of the supplies you might just want to get to get that mal up off the couch and doing something.