Nova a.k.a. Bog of Dog
4-21-96 - 2-22-02
Nicknames: Bog, Bog of Dog, Killer (she's a good hunter) ---- sometimes we even called her "Nova"
AKC Registered Name: O'Mal's Dark Star
OFA: Good, CERF: Clear, CHD: Clear
23" 65 lbs.
Nova, also known as "Bog of Dog" was our snuggler. She would lie perfectly still in any position - including upside down - and not move as long as you'd want. She watched TV and cuddled for hours. She had impeccable dog manners and always defered to Star (Mom). She was the very best friend of our daughter Colleen. She died suddenly without warning, from a bloodclot that went to her heart on a Friday night. She had recently been spayed because of developing pyometra. We thought we would be happily expecting puppies but instead almost lost her to pyometra and had to spay her. We were just thankful for her life. When we didn't lose her then, we felt we were home free. But apparently God had granted us just a little more time with our sweet little girl as he must have had a more important job for her. Colleen and I had gone to the movies. Dan was home and had been playing tennis ball with Nova and Hoover. She was romping around like a little puppy and was so happy. When they finished playing, they went upstairs and she asked to go to Colleen's room. Dan sat down to check email and only a couple of minutes later heard a thud. He went to see and found her lying on her side. He lifted her head, she gave a soft woo and died in his arms. That fast. He tried CPR but nothing brought her back. It was so sudden and unexpected and there was nothing he could do. To be playing happily one minute and the next she is dead has devistated all of us, particularly Dan who worked with her so closely and Colleen who was her special person. Our hearts are broken. If you didn't know "Bog", (her real name was Nova, but we rarely called her that), you would have known a complex and loving little girl, who was so special in every way. With 7 dogs, it's hard to imagine she would be such a big part of our lives, but she was: She came into this world naturally, but Star had to have a c-section for the remaining pups. Of the 4 puppies, only herself and Hoover survived (due to some veterinary incompetency). Perhaps because Star was unconscious the first 24 hours, she never really accepted Nova as her own and made her grovel and apologize for being born. But we loved her dearly, especially Colleen, and never allowed Star to bully her.
Seemingly quiet and retiring, she had a wild side. She liked to "yell" doggy insults at crazy uncle Shadow and thought nothing of wrestling with her much bigger brother Hoover (she'd usually win!). She was intelligent, intense and dog aggressive like mom. Nova was motivated by food and would make friends with anyone with a treat. She was the lowest dog in the pack - even after Holly. But she didn't mind because she knew her people loved her. She was usually underfoot when I was cooking and I really miss opening the oven, and having to say "Move Bog". She was also the official alert dog yelling "A-WOO" when I put the first doggy dish down at suppertime. She was very intelligent but unfortunately, couldn't show it too much without incurring Star's wrath, so was quiet and unobtrusive to please Star like a good daughter. Her goal was to be invisible, so maybe she is still here with us. When mooching at home, she stayed back and waited patiently for her tidbit. She was extraordinary at catching anything from a distance.
When she moved into Colleen's bedroom she claimed it as her space. She won't let any other dog enter, sleeping there at night, quietly checking on Colleen before she settled down on her doggy bed. She even must have told Holly "You need to get a ROOOOM" because Holly claimed one! Nova was never presumptious or demanding, and rarely asked for anything - even to go out. She just waited for another dog to ask first. She liked stuffed animals too - except she liked to gut and shred them! Her last stuffed animal was a gift from Koani's family. It was a bunny that went "boing boing" and for some reason she didn't destroy it like the others. The other dogs still respect her space in Colleen's room and refuse to enter without an invitation and assurances it is OK.
Nova was an excellent hunter and caught birds and mice often. Chewing on chew hooves, snuggling and playing with a tennis ball were her favorite activities. She liked to do silly "happy dog" runs around the room, but wouldn't if Star was nearby because star would pick on her for being "happy". But when she was happy, she was just jubilant! She was very family and pack oriented, and not overly fond of strangers. She did well in her dog-show career, having 18 points and needing only a major to finish her Championship. Shortly before she died, she decided it was fun to get treats and be the center of attention, sometimes. She will always be a Champion in our hearts. We expected Nova puppies the end of February, but instead she developed pyometra and was spayed. She would of been a great mom. Unfortunately, she died the day her puppies would have been born from the blood clot. Nova was a lover that gave us all the affection anyone could want - we will miss her so much.
Nova's Album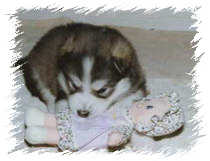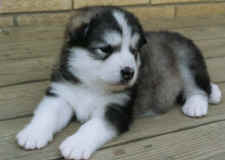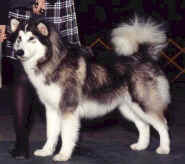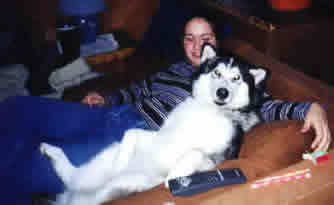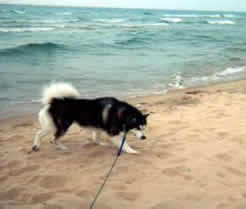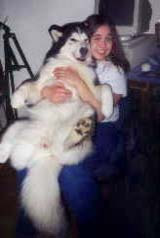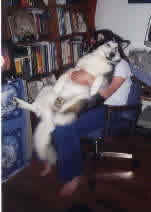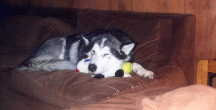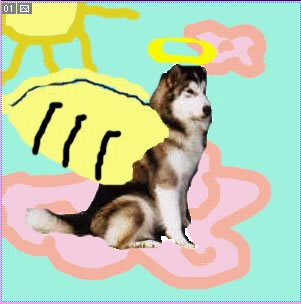 by Ryan